Kyoto station Machiya
 Fully renovated 100years old small Machiya for rent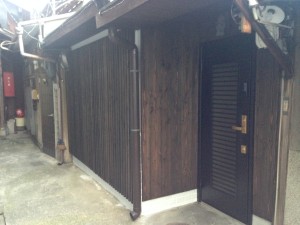 A rare-opportunity!
Your own fully renovated small Machiya (Japanese traditional house), hidden on a small quiet street close to everything. The house is over 100 years old. While keeping its old charms and outside features, the renovation last year gave the house a complete modern change over. Completes with stylish western amenities including bran new system kitchen, stylish bathroom with shower, washlet toilet, wooden floor throughout, lofted ceiling, and your own private zen garden. Close to Kyoto station, Sanjusangendo, museum and many more.
Located in a very quiet neighborhood, away from traffic yet close to everything. Lots of nice restaurants, cafes and bars nearby, world heritage temples and shrines are also a short walk away. There is even a sento (Japanese style communal bath) if you are brave enough to try the authentic Japanese experience, nothing is better to have a icy beer after soaking in the hot bath, on the cool summer night or in the winter after snows.
A good slow walk (1km) to Kyoto station where you have access to Osaka in less than 30mins or access to bullet trains to other parts of Japan and to the airport, less than 8mins walk to Shichijo station (Keihan railway), where you can access other parts of Kyoto and Osaka (cheaper commute costs), many Buses to different parts of Kyoto (less than 5 mins walk, bus stop in front of the convenience store), and a short Taxi ride (about $5 from Kyoto station). The house is a short bicycle ride to downtown Kawaramachi and sanjo area where all the shoping and drinking (night life) are happening. You would never need to worry about making it to the last night before midnight as your house would be a few minutes away on bicycle or a walk away.
Fully furnished including washing machine, double door fridge, bran new airconditioner, microwave, table set, futon (with bed sheets, blanket, pillow), small built-in wardrobe, even comes with small details such as bath towels, kitchen goods and even your coffee is ready for you.
For enquiries and reservation: koala.apartment@gmail.com